WATCH! Will De Lima be Senate's next Miriam Santiago?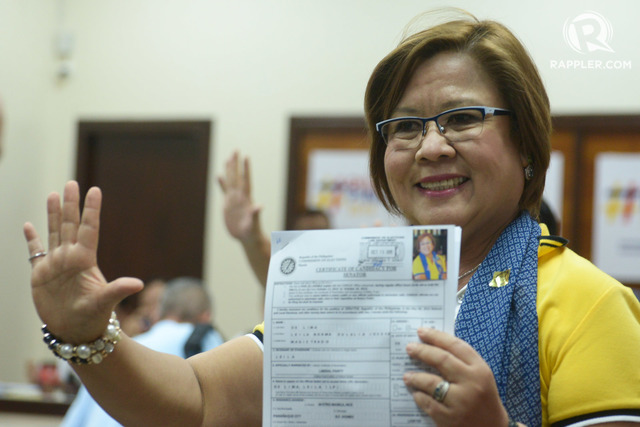 MANILA, Philippines – She was the dauntless head of the human rights commission and the justice department but does Leila de Lima have what it takes to be the next Senator Miriam Defensor Santiago?
De Lima raised the question as she formalized her Senate bid on Thursday, October 15. Her candidacy for the May 2016 polls marks the first time she is running for public office.
The former justice secretary known for ordering controversial investigations into corruption and criminal cases said people compare her to Santiago, the Senate's resident legal expert known as the Iron Lady of Asia.
"I am often asked if I will be the next Miriam Santiago of the Senate," De Lima said. "How I wish, but I beg to disagree."
"First, I have yet to win any election. Second, there is only one Miriam Defensor Santiago, and she cannot be replaced. But I will surely attempt to be a good student, and learn from the veteran of so many political battles."
De Lima paid tribute to Santiago as she delivered the keynote address at the Philippine Judges Association conference at the Marriott Hotel in Pasay. City Santiago also attended the event, where she was inducted into the group's Hall of Fame. (READ: Miriam Santiago: Senators dream of becoming president)
The former justice secretary addressed the gathering before filing her senatorial candidacy at the Commission on Elections office in Manila.
De Lima said she is honored to be compared to the popular and multi-awarded Santiago.
"Senator Miriam is probably the first role model of a fearless lady public servant under the present 5th Republic of the Philippine nation. We can probably say that she is the one who started the tradition of strong women in government when she 'ate death threats for breakfast' as commissioner of immigration," De Lima said in reference to a famous Santiago line.
While she praised Santiago, De Lima is supporting the candidacy of administration standard-bearer former interior secretary Manuel "Mar" Roxas II. Santiago is running for president, up against Roxas, opposition leader Vice President Jejomar Binay, and independent Senator Grace Poe.
De Lima, 56, resigned from the justice department last week to run for senator under the ruling Liberal Party's 12-member senatorial ticket.
She was one of the key women leaders in the Aquino government, along with Chief Justice Maria Lourdes Sereno, Ombudsman Conchita Carpio-Morales, former Commission on Audit Chairperson Grace Pulido-Tan, and Internal Revenue Commissioner Kim Henares.
source