BREAKING NEWS! Aguirre to present Bilibid inmate Jaybee Sebastian in next House probe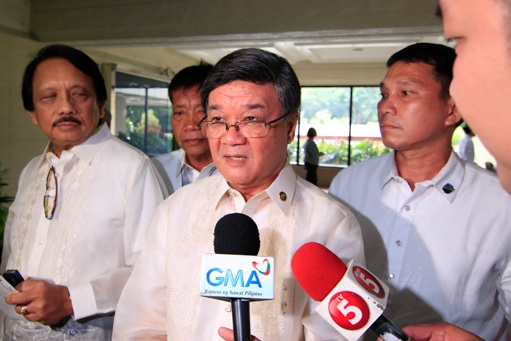 MANILA, Philippines — Justice Secretary Vitaliano Aguirre II on Sunday confirmed that New Bilibid Prison (NBP) inmate Jaybee Sebastian would attend the next hearing of the Committee on Justice on October 5.
In a radio interview, Aguirre said there is no subpoena issued against Sebastian but cited it is a compulsory process. As Justice secretary, he said he is required to bring the inmate to Congress.
"Compulsary process iyon e. Actually hindi subpoena e. Ako ang nire-require as head of the Department of Justice (DOJ) kaya parang kasi suspended ang political rights ng ilang prisoners eh so wala silang karapatan na tanggihan ang mga iyon," Aguirre said over a radio interview with dzBB.
Sebastian is an alleged "favored" convict at the penitentiary. The witnesses of the DOJ claimed Sebastian and Sen. Leila De Lima are in cahoots in raising funds inside the NBP.
Aguirre, however, clarified that Sebastian is not a DOJ witness, adding that he is not aware of his possible testimonies. He said 30 other witnesses of the DOJ would no longer be presented in the next House panel hearing.
According to Aguirre, the House probe into the alleged NBP drug trade was rescheduled to October 5 because he was asked by President Rodrigo Duterte to join his trip to Vietnam from September 27 to 30. The next hearing will be the third day of the inquiry.
The first two days of the House inquiry were held last Tuesday and Wednesday, respectively. DOJ presented inmate witnesses as well as former officials of the Bureau of Corrections. Earlier, De Lima said Sebastian is a government asset in the campaign against illegal drugs during the Aquino administration.
She denied allegations that Sebastian was not transferred to Bilibid 19 because he was favored but clarified that the inmate was transferred to the National Bureau of Investigation because of fears that he might get killed as some of those among the Bilibid 19 suspected that he was giving information about them. Aguirre is looking into filing charges against those involved in the alleged illegal drug trade within the year.
source